Strengths of "Ingénieur" graduates
"Ingénieur" Studies
In the French education system, the "Ingenieur" diploma is a Master's Degree accredited by the "Commission des Titres d'Ingénieur". CTI is an independent accreditation body established by the French law in July 1934.
An "Ingénieur" :
has received an education built on strong scientific foundations,
has the ability to understand complex problems,
is capable of working in a multicultural and international environment,
is able to adapt to technological change and has a long-term vision,
has acquired vision in Marketing, Human Resources and Team Management,
is socially responsible,
is cultivated, and acts humanely.
At the end of their "Ingénieur" studies, new graduates have a thorough knowledge of technical and managerial fields that they have put into practice during several internships. This allows them to be quickly operational.
Type of jobs and necessary skills
The "Ingénieur" has a decisive place within a company. His ability to adapt, as well as his open-mindedness, are necessary to work on complex projects. The "Ingénieur" profession is either general or specialized (for instance "Ingénieur" in Agronomy, "Ingénieur" in Food Sciences Research and Development). An "Ingénieur" addresses problems globally, and will take technical, economic, human, social and budgetary constraints into account.
The necessary skills in this type of job are:
a good balance between conception and action,
mastering analysis and synthesis,
awareness of real environment,
adaptability,
listening skills and handling human relations,
ability to manage a multicultural team.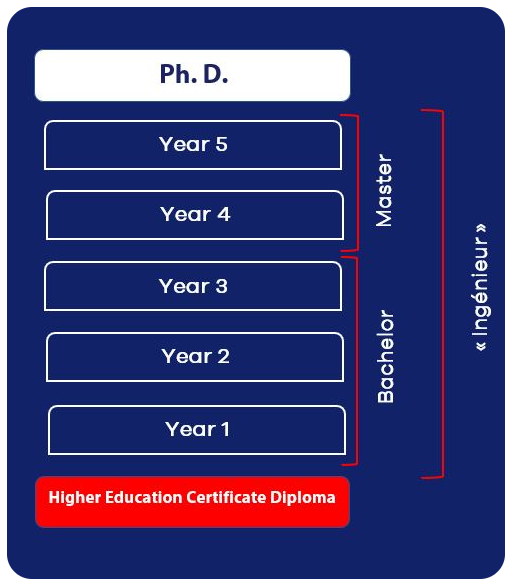 You hold a High School Diploma or Leaving Certificate of secondary education: apply to the 1st year of the Engineering degree
On the website Parcoursup from January 2019 and in parallel on the "Etudes en France" platform
Application cost : €150
Admission criteria : diploma in science, command of French language (minimum B2 level of the European Common Framework)
Students selected on written application will be invited to an interview per skype or telephone.
You hold a Bachelor of Sciences or equivalent degree: apply to the 3rd or 4th year of the Engineering Degree
Apply on the website: "Etudes en France"
Admission criteria:
Bachelor of Science or equivalent diploma in life science or related domain.
Minimum command the language of instruction of the France Agro3 programme chosen
Any question?
Contact us!
3 bis Cité d'Hauteville 75010 PARIS
Tél. : +33 (0) 1 49 49 09 49
E-Mail : contact@franceagro3.org